Implant-Retained Dentures
Replace Loose & Uncomfortable Dentures.
Ideally suited to patients with one or two whole arches of failing teeth, or patients who have previously lost their own teeth and currently wear dentures; Implant-Retained Dentures are a cutting edge, highly effective and affordable treatment option that provides same day new teeth to immediately transform a smile.
Benefits of choosing Tiwari Watson Dental Care for Advanced Dental Implant treatment
Free Consultation – Join us for a no obligation chat about your smile and to discuss your treatment/finance options over a relaxed cup of tea or coffee at our Glasgow practice
Highly Experienced Dentists – With a calm and gentle approach, our dentists have a breadth and depth of experience and skills in transforming smiles with dentures. Our denture dentists, Joseph Watson & David Chan are members of the ITI, International Team for Implantology
Friendly, Caring Team – We promise to always greet you with a smile and do everything we can to ensure you feel comfortable and relaxed whilst you are in our care.
Multi-Award Winning Practice – Our awards for outstanding patient care include best treatment of nervous patients in Scotland for 2016, 2017 and 2018, see a full list of our awards here
Free 3 Year Warranty – All of our dentures come with a 3 year warranty subject to annual checks and bi-annual hygiene visits
0% Finance – Spread payments for your dental treatment into affordable monthly amounts
Press play below to see a video on Implant Retained Lower Dentures
Press play below to see a video on Lower Implant Dentures
Methods of Implant-Retained Dentures
Option One – Removable Implant-Retained Denture
Implants can be placed to stabilise and retain a denture. The denture is simply snapped in to place where it is retained by the implants and supported by the soft tissue. It can easily be snapped back out each night for cleaning.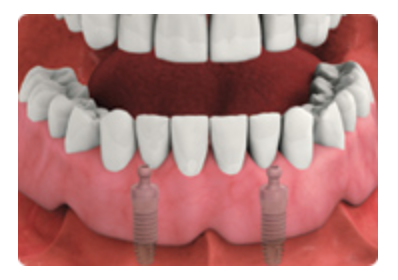 Option Two – Fixed Implant-Retained Denture
If all of your upper or lower teeth are missing you can have a fixed implant supported restoration to completely replace your existing denture. The number of implants will vary for each patient. The new teeth will be firmly supported by the implants to stimulate the jaw and maintain bone. Your dentist can remove the restoration for maintenance and cleaning.

Our Patient's Experience with Implant Treatments
Press play below to see a video of George discussing the benefits of implant treatment
Press play below to see why Agnes chose Tiwari Watson Dental Care for her implant treatment instead of Turkey
Press play below to hear about the differences dental implants have made for our patient Maureen
Our Patient's Experience with Tiwari Watson Dental Care
For more information about the choice of Finance Options we offer at Tiwari Watson Dental Care, please get in touch or request a free consultation.