Quick, Discreet and Comfortable.
With no wires or brackets (unlike fixed braces) removable braces are very comfortable to wear and almost invisble – so no one will know you are wearing them unless you tell them. Made to match your lifestyle, the clear braces can also be removed for eating, drinking, brushing and flossing your teeth, but otherwise are worn continuously.
Benefits of choosing Tiwari Watson Dental Care for teeth straightening treatment:
Free Consultation – Join us for a no obligation chat about your smile and to discuss your treatment/finance options over a relaxed cup of tea or coffee at our Glasgow practice
Highly Experienced Dentists – Our Quick Straight Teeth dentists (Dr Joe Watson and Dr Raashi Tiwari) have vast experience in teeth straightening treatment.
Friendly, Caring Team – We promise to always greet you with a smile and do everything we can to ensure you feel comfortable and relaxed whilst you are in our care.
0% Finance – From just £145 a month, payments for your Clear Braces can be spread into affordable monthly amounts (subject to terms and conditions)
Straighten your crooked teeth in as little as SIX MONTHS
Quick Straight Teeth™ Removable Braces have been developed in order to provide the most affordable, comfortable and effective way of straightening your teeth.
Treatment involves you wearing a pair of transparent aligners which are moulded to the exact shape of your teeth using 3D computer imaging. These aligners are so comfortable to wear that you will soon forget that they are there – they are also invisible when worn and so there is none of the embarrassment that comes with wearing large metal braces.
The aligners can be removed for eating, drinking, brushing and flossing your teeth, but otherwise are worn continuously. Every fortnight the aligners are replaced by the next pair in the series so that your teeth are slowly moving and straightening without pain or discomfort. The use of aligners exerts a controlled force on the teeth: at different stages in the process, only certain teeth will be allowed to move. Thus the whole process is gradual, controlled and painless. For more information, and to visit the Quick Straight Teeth website, please click here >>
Press play below to see a video on our innovative system:
Our patients' experience with dental implants
Press play below to see a video on how Invisible Braces Treatment changed Lesley's life!
Press play below to see Bernadette showing off her new smile!
Smile Transformations with Removable Clear Braces in Glasgow
Before and After Teeth Straightening treatment at Tiwari Watson Dental Care: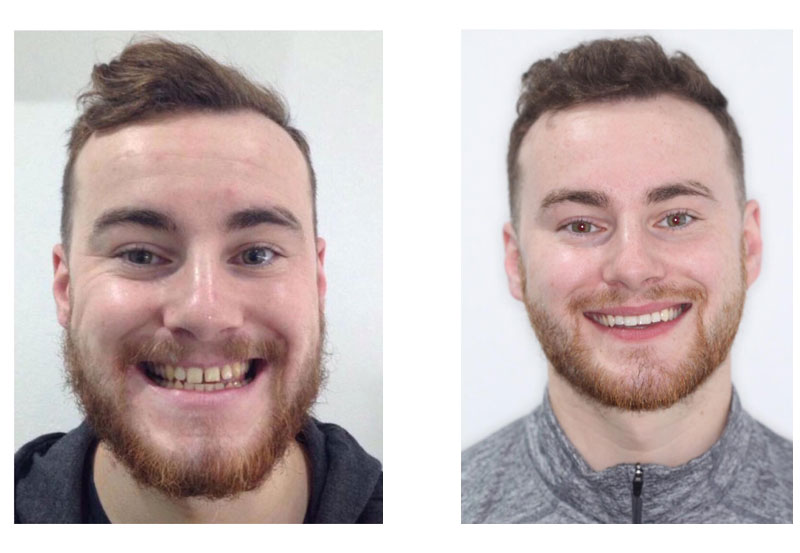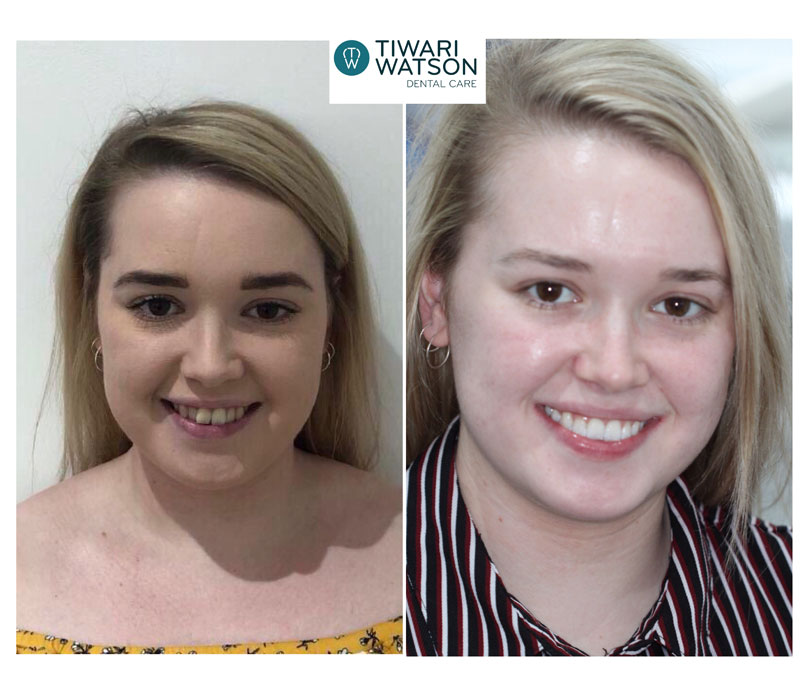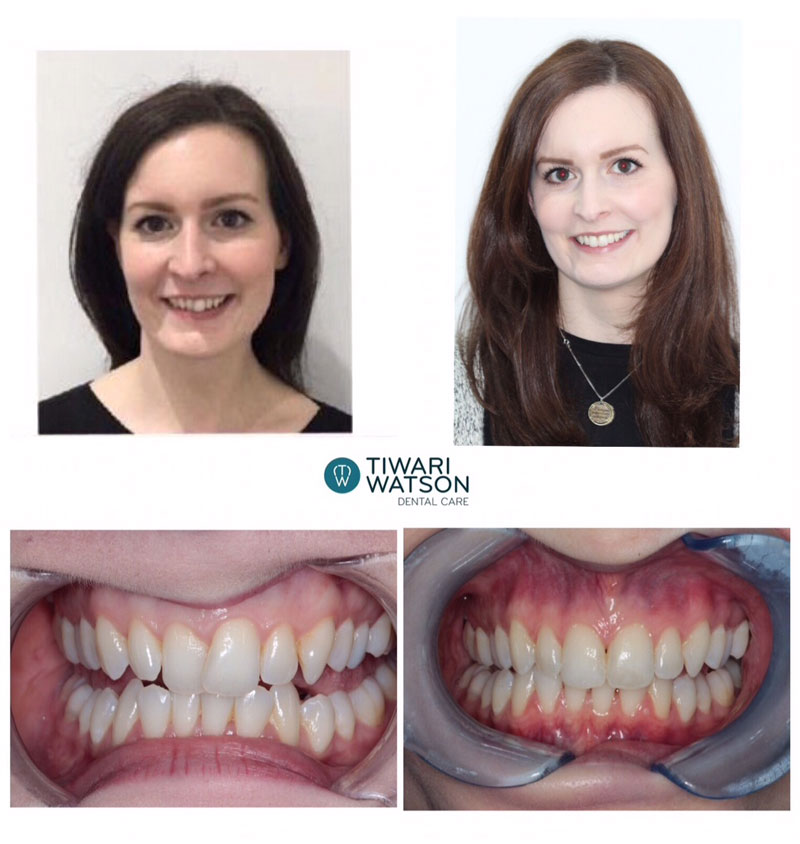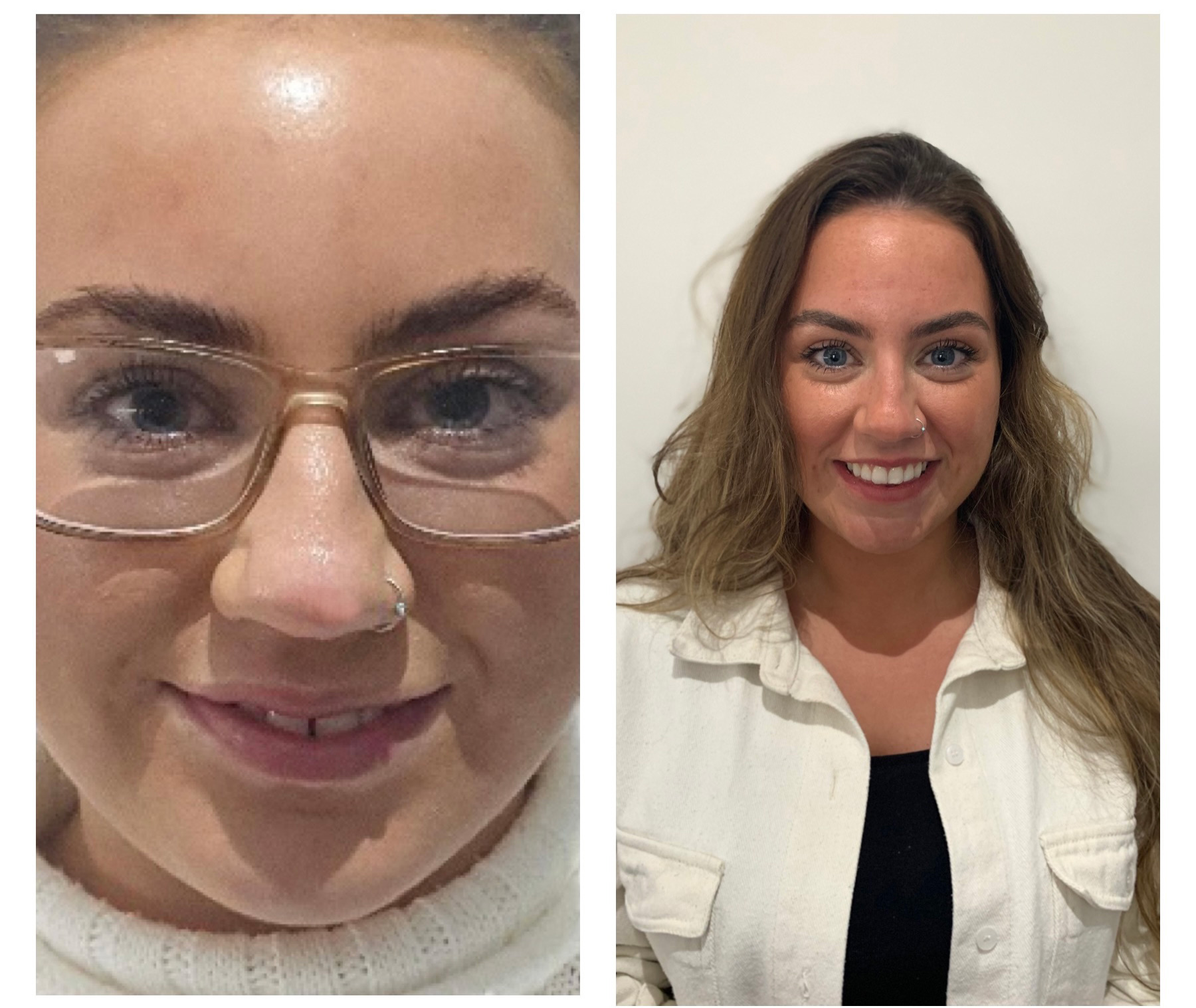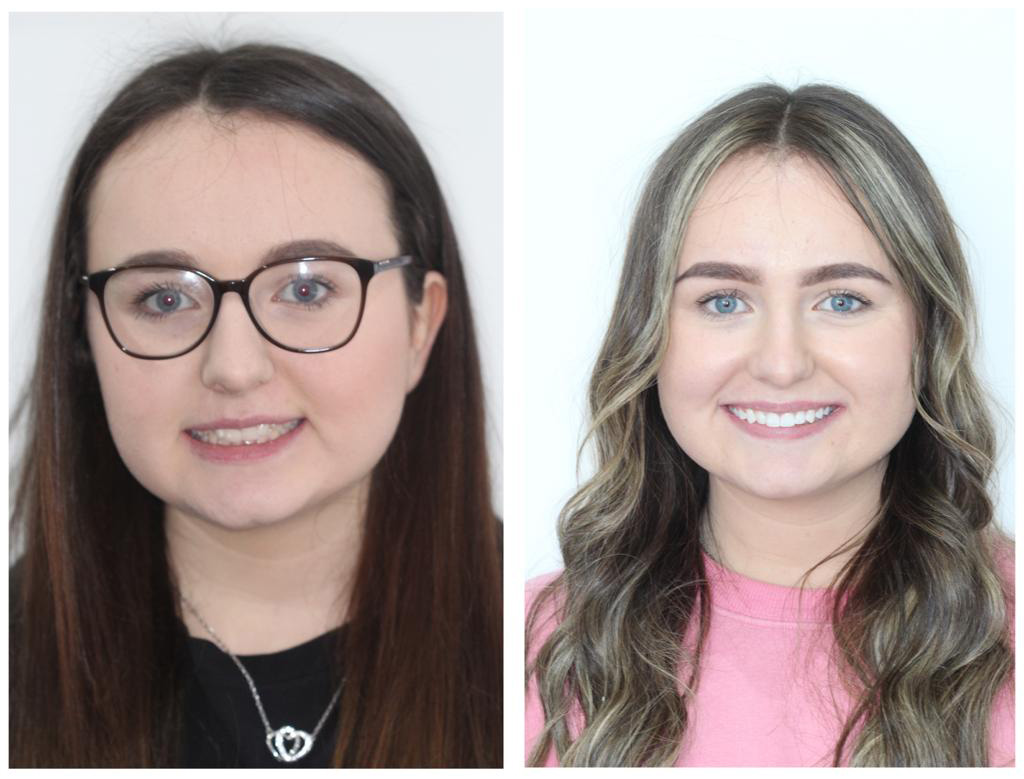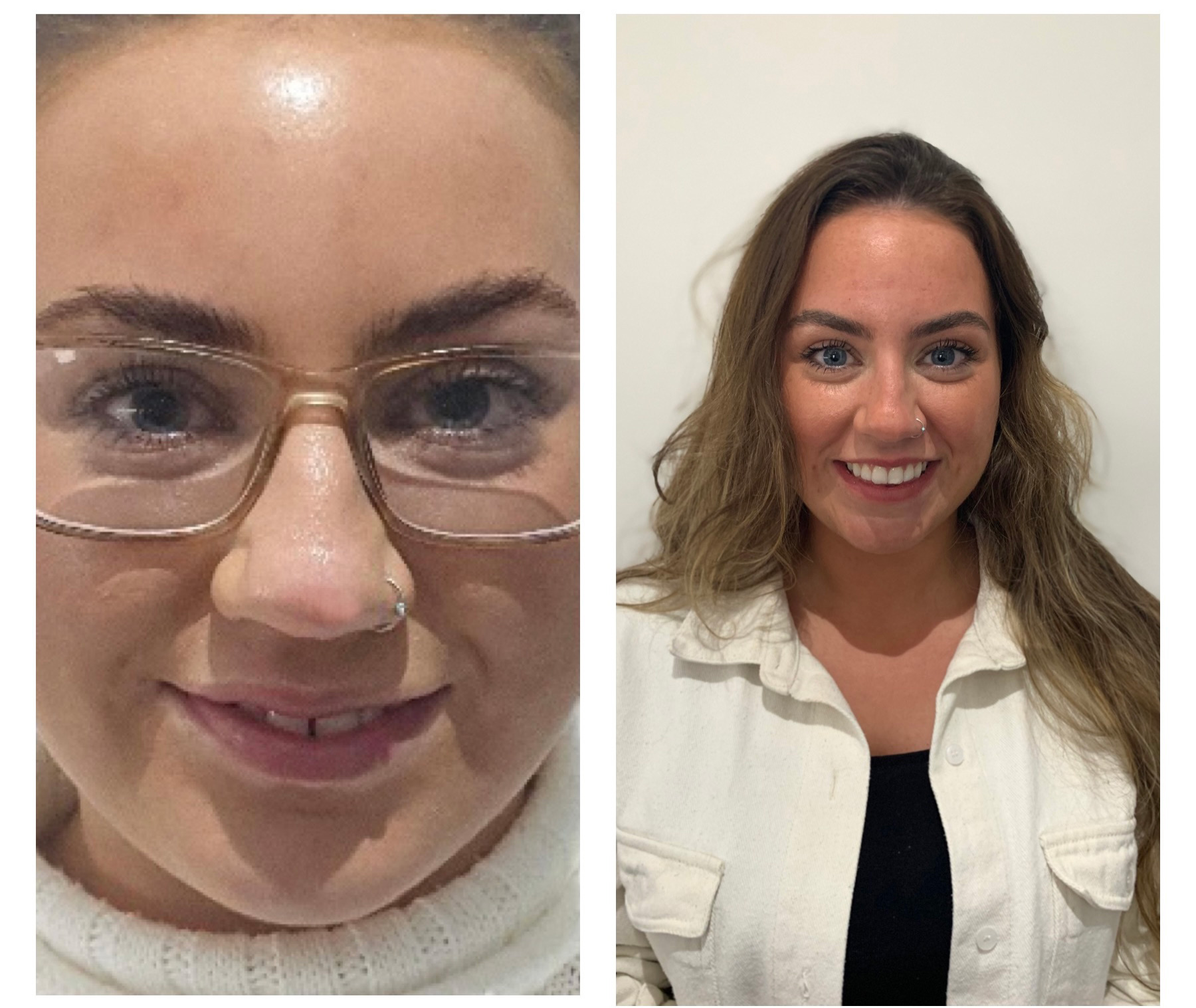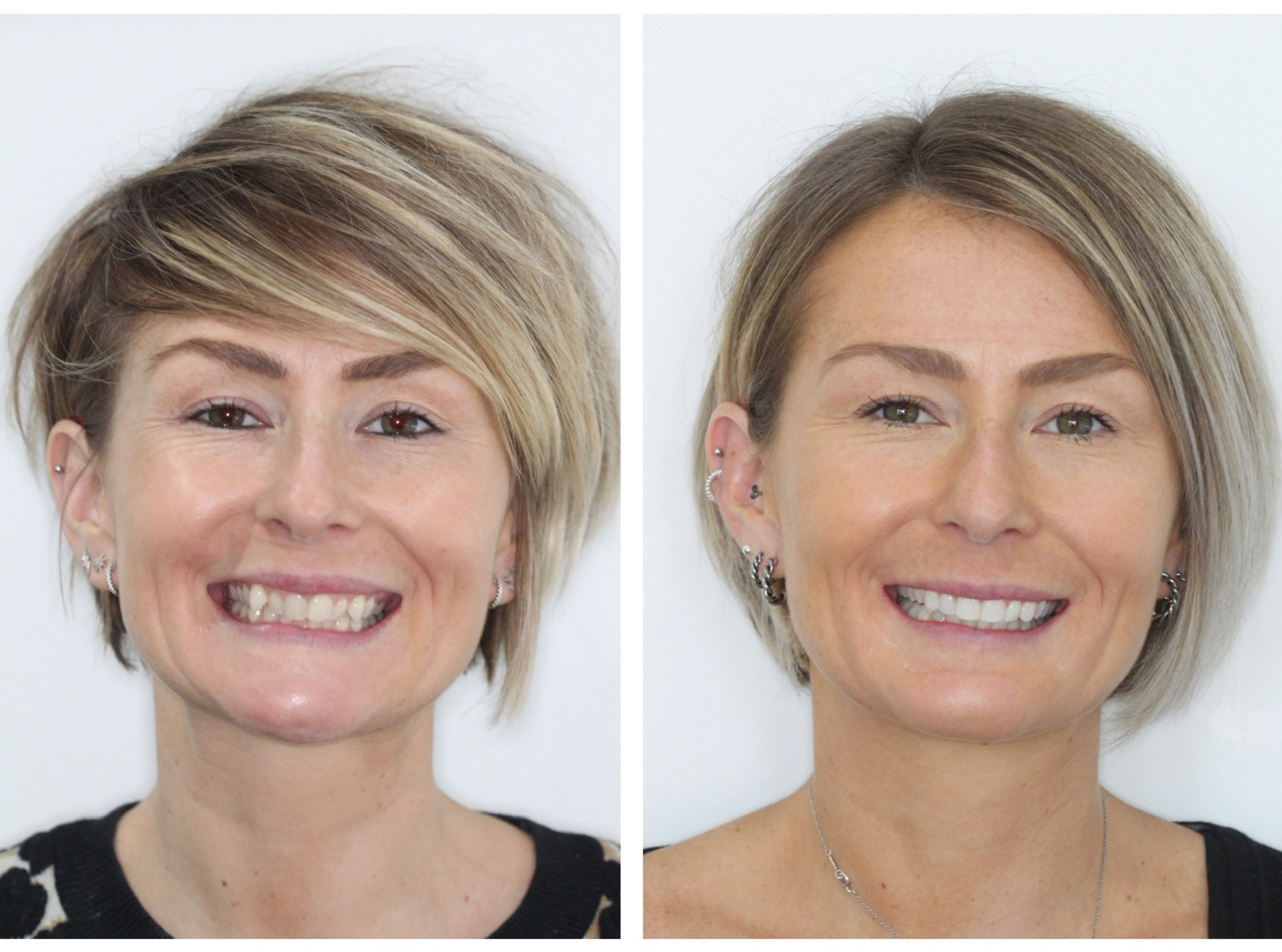 Put your Smile in Friendly, Caring and Highly Experienced Hands
"I was a new patient to the Tiwari Watson practice a short time ago. I had extensive treatment carried out on my front teeth, new crowns were made for my daughters wedding which was fast approaching at the time.
Everyone at the practice, from the reception staff, to nurses and dentists were very friendly and accommodating and I'm so pleased with the final results of my treatment – now I can't stop smiling! Would like to thank everyone again and would definitely recommend this practice to anyone"
(M Malik, Summerston)
Ask us about 0% Finance and Affordable Monthly Payments
A popular option for our patients considering Clear Braces, 0% Finance allows you to spread the cost of your treatment over an agreed credit period that fits within your monthly budget.
Take your first step to a new smile today…
For more information about straightening your crooked teeth within as little as SIX MONTHS with Removable Clear Braces, please call us on 0141 557 3488 or complete our Online Appointment Request Form >>